AR Based Android App Development For Business Benefits
Augmented reality – Sounds familiar? Yes, we are talking about the technology that was used in the famous/infamous game Pokemon Go. It created quite a stir in 2016, do you remember? People even suffered from accidents (or so the media says) when looking for virtual Pokemon in the real world. Now, augmented reality is pretty much more than just a game, as we all know. The technology primarily aspires to provide us with the experience of virtual elements in the real world.  And, that can be used in business, hospitality, education, travel and so many other areas apart from entertainment. The only concern will be to find a company that has both the resources and the manpower to develop innovative AR apps for mobile devices.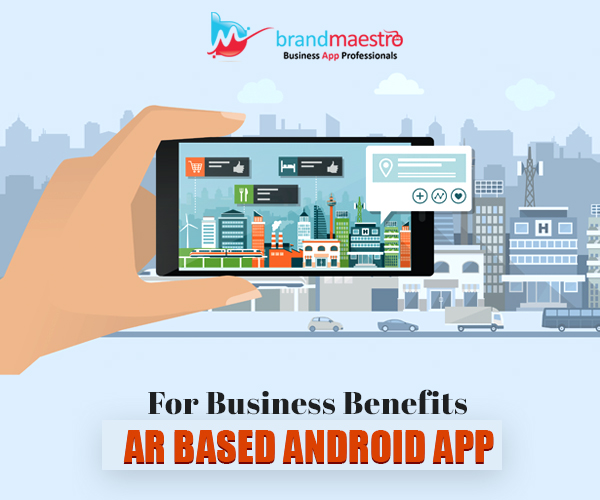 Unlike Virtual Reality, Augmented Reality is not limited to the use of wearable devices like Google Glass, Smart TV, Go Gears and etc. If your mobile device is compatible with the latest technologies, you can easily run augmented reality apps without any extra cost. Now, if you wish to develop an AR app for your business, it can be a big deal to get a reliable Android App Development Company in India that will take all your needs into consideration and, develop a user-friendly app for you. It is easy to dream big, but it is difficult to find the right partner on whom you can trust blindly to make that dream come true. Before we come to that, let us first discuss how Augmented Reality can actually propel your business.
If you wish to have a better understanding of Augmented Reality, the following apps can give you an idea as to what it is:
Wikitude:
It is a free app for Android devices that helps you see the world in a completely different and immersive sort of way, giving you information about your surroundings with its "computer vision". It augments your world and lets you see things that your eyes cannot capture. The animations, 3D models, videos and other features aid you to connect to your surroundings in a better way just by scanning and augmenting. In fact, its magical utility cannot be expressed in words. You see it and you will realize.
Google Goggles:
This one is a visual search app that uses your camera to recognize a particular object and returns relevant information about it. For example, if you take the picture of a company building, it will give you valuable information on the business. If you capture the image of a landmark, it will provide you with information on the nearby locations and places. Amazing, right? Well, augmented reality is indeed magic.
Sky Map:
Well, this is hand-held planetarium that helps your experience the celestial pleasure of watching the night sky. You point to the stars and it will show you every detail that you have just read in the books till date.
Developing AR apps is not rocket science, as you can see. The Android Apps can be developed easily with the help of Android SDK which provides the developers with the API necessary for interacting with the camera of the mobile devices.
Are you intrigued now? Do you have ideas coming to your mind about how your Augmented Reality app should be? Before you start looking for advanced Android App Development Services on the web, there are a few more things that you should know.
How Can Augmented Reality Apps Augment Your Business?
Enhancing in-store experience- Have you heard about virtual trial rooms? It is an idea that can turn your store into something that everybody would like to visit at least for once. Even if a product is unavailable, Augmented Reality can help your customers see how that product would have looked in virtual trial rooms. Although it sounds like science fiction at present, it is quite possible looking at the pace in which technology is evolving day by day.
Augmented Reality Roadmaps- How would you like the experience of a simple map turned into a rich information store? You can get details about your nearby locations, landmarks, places like food joints, hotels and everything around you with just a simple Android app. Think how different the world will seem then!
Travel And Tourism- Providing a realistic preview of travel destinations can increase the traveler's interest on that particular site. Travel and tourism companies can make use of this technology to increase their followers and revenue in the long run.
Education- Last, but not the least, The AR technology can be used in the field of education to enhance classroom teaching, make it more interactive and engaging in various sorts of ways.
All these ideas are no doubt, amazing. But, the only pain is to find a reliable Android App Development Company that can meet your expectations and provide you with the app you desire. The first thing that you need to do is, find someone you can trust. They may not be the best in the market, but they should be able to invoke feelings of trust and reliability. Developing an Android app based on Augmented Reality is going to be a massive project, so, patience, time and proper resources need to be invested. So, go on, dream big! You will definitely find some way to achieve those dreams. Give your best and you will not be disappointed. Remember, AR and VR are all set to take the industry by storm. If you do not act now, you will lose this golden chance to stand out from the crowd. Let that not happen to you. Upgrade your resources and embrace the advanced technologies as soon as possible.