Get Ready for Christmas Discounts on Web Services with Brand Maestro
Wishing you a very happy and prosperous Christmas! On the occasion of this gala celebration, Brand Maestro is proffering some lucrative discounts on a gamut of impeccable services including Web Design, Web Development, Mobile App Development, Shopping Cart Development, and Mobile App Design etc. In today's world, outstanding mobile strategy is a must have for every blooming business. No longer acknowledged as a fad, unique and outstanding mobile website design plays a crucial role in terms of making a blooming business successful. Keeping fingers on the pulse of this prevalent business norm, at Brand Maestro, we have decided to offer a plethora of discounts on every service we provide to our clients.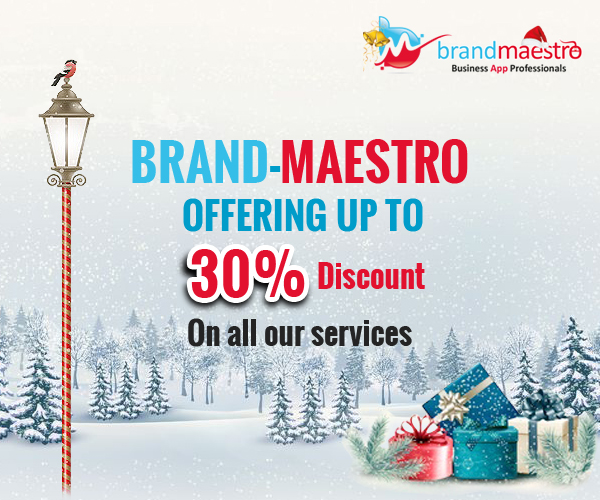 We are enormously proud to proclaim that we have Logo Design India as our partner portal that is delicately used for Graphic Design Services. By providing affordable Logo Design Services, LDI has succeeded in delivering premium quality  designs for every esteemed client. Rich in experiences, the skilled professionals of Logo Design India have successfully designed numerous logos for several industries all across the globe. With the mission of tailoring amazing graphics for representing and subsequently, popularizing your brand, LDI has earned oodles of public adoration from everywhere. There is no doubt that attractive logos and websites can be the most perfect gifts for the frolicking winter holidays. Keeping it in mind, Logo Design India has given up to 30% discount on graphic design services for every client. You can avail such alluring discounts by relying on the services that we provide at Logo Design India.
A lucrative discount is always the best thing that an aspirant entrepreneur or a flourishing business should offer in order to ensure potential growth in any chosen business. At Brand Maestro, we have tailored amazing service packages that everyone can afford sans going overboard on his/her stipulated budget. In spite of presenting extremely affordable packages, we at Brand Maestro strive to facilitate our clients on this Christmas with an amazing festive discount on every service. This is our ethic to value our clients.  With this amazing festive discount on Christmas, we have moved one step ahead in terms of inducing Christmas retreats for all our prestigious customers. Remaining under the wings of us, the clients avail the golden opportunity of enjoying multiple services sans shelling out a lot.
Having been acknowledged as an outstanding service provider in the extensive expanse of Web Design, E-Commerce Web Development, Responsive Web Design and Mobile App Development etc. We have successfully catered to millions of people from all parts. We always couch for the best talents who can go to any length for serving our esteemed clients.
Utmost dedication and extensive knowledge are the prime USPs of our proficient experts. They have always been extremely successful in terms of delivering authentic and outstanding solutions for every project without burning a hole into their clients' pockets. At Brand Maestro, we brag of teaming up with a number of highly efficient project managers, creative designers, skilled programmers, and diligent mobile app developers who pour their hearts out for proffering effective solutions.
The phenomenal talents, befriending with our attempt to deliver the affordable solutions, have led us fulfill our clients' requirements without asking for extra. The clients will be enthusiastic to know about the lucrative discounts that we are offering for the upcoming Christmas celebration. We have exclusively designed this discount for turning your Christmas celebration into a memorable one.
If you are really keen to make your Christmas profitable by seeking the services of our experts, get in touch with our technicians sans hanging back. We are always at your service, and are all set to help our clients attain strong web presence on the net. For more details you can sign up to our official website. You can contact us on +91 – 33 – 40200868 or mail us directly at info@brand-maestro.com. We are looking forward to being a part of your Christmas celebration.