Mobile App Marketing Myths That Affect Revenue Generation
Currently, many customers fulfill their personal needs by using mobile apps. Therefore, it is obligatory for mobile app design companies to understand the behavior of mobile app users, according to that, develop, and market their products for attaining maximum mileage.
However, mobile app UI design companies suffer from certain myths/misconceptions that mar business growth. Here are some myths that these companies should avoid and generate revenues for surviving in this competitive environment.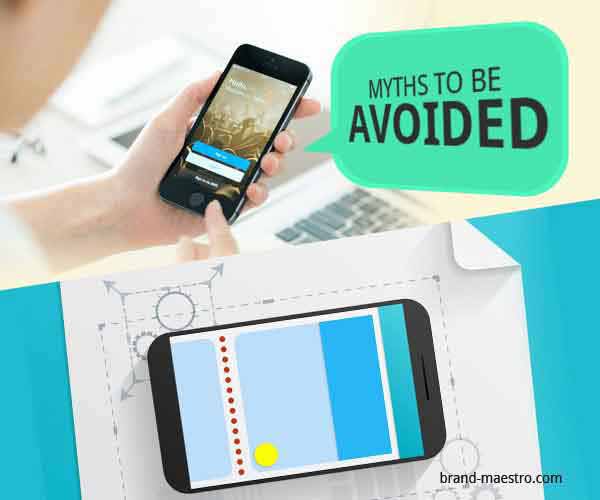 Common Myths
•    Inexpensive users are equivalent to high quality users
•    Going for new acquisitions leads to business growth
•    Product people go for mobile analytics
•    Requirement of SDKs for measuring attribution level
•    Undertaking creative work is one time investment
Myth 1 – Inexpensive Users are Equivalent to High Quality Users
Many mobile application marketers are aware of "cost per install" (CPI) metric. Using this metric, they target cheap users. Now the question is will these cheap users come at par with high quality users? What about the business revenue generation?
If you find that the aim of a user is to buy something in the mobile application, then you should figure out those channels, which fetch business. If the revenue depends upon in app advertising, devise ways to make users engaged in your application.
Myth 2 – Focusing On New User Acquisition Leads to Business Growth
For generating revenue, you have to attract users, who can engage with your app and spend money. These users can build lifetime value than new ones.
A past survey has shown that 20% of users used mobile apps once. It is less expensive to re-engage current mobile app users than acquiring new users.
As a profitable move, you need to retarget your users with your app data. Email marketing, push notifications, mobile app engagement advertisements are some useful techniques for keeping the current users engaged. You can configure the mobile app for driving users to specific section for attaining maximum engagement.
Myth 3 – Product People Use Mobile Analytics Software
Mobile analytics tools can help you understand how users use an application and the demand level of the same, by showing engagement and retention metrics. However, mobile app marketers overlook the underlying value of such data. By taking this matter seriously, mobile app marketers can put right efforts for generating revenue.
Many analytics software tools allow mobile app marketers for tracking mobile advertisement IDs at user level. Mobile advertising IDs help mobile app development companies for anonymously tracking activities meant for marketing purposes.
This kind of data helps mobile app marketers for acquiring users, who exhibit same psychological, demographic and geographic characteristics as the best users using look alike modeling available on channels like Twitter and Facebook.
In addition, mobile app marketers can utilize this kind of data for retargeting segments of users for taking suitable action in an application.
Myth 4 – Mobile App Marketers Require Multiple Software Developments Kits for Measuring Attribution
If you plan for spending money to drive users to your app, then a mobile attribution software development (SDK) can help you in understanding the results. Mobile attribution tool tracks behavior of user in an app through acquisition channel.
This kind of tool can track a wide array of organic and paid channels to your app by using a SDK and enables you to easily and quickly assess the place, where you can make efficient impact.
Myth 5 – Undertaking Creative Works for One Time
On web, you can watch the same banner number of times, with the same creative and copy. If you are testing one piece of creativity and expecting to use it for the entire campaign, then you are missing a big opportunity.
Prepare different creative works and test their acceptance levels at various channels. At certain intervals, change the creative copies and images to provide fresh look to the app.
These are the above said myths from which mobile app marketers suffer from. Take the corrective measures to fetch maximum revenue for your business.