Top 10 Productivity Apps For The iOS Platform
The iOS market is booming with the development of apps. Statistics show that, currently, about 400 iPhones are sold every minute in different parts of the world and, the number of iPhone users is more than 85 million in the USA alone. Also, more than 1 lakh applications were submitted to iTunes on September 2016. These data clearly reveals that the platform offers a huge opportunity to app developers all over the world to reach out and make a mark in the industry. If you have an app idea in mind, this worldwide platform increases your chances to turn it into reality. The only requirement is a reliable partner offering innovative iPhone app development services without burning a hole in your pocket.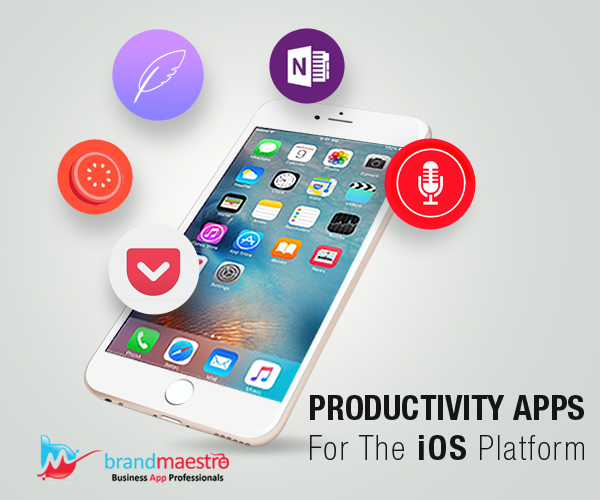 According to the baby boomers, the millennials seldom use their phones for calling or texting. They mostly use it for social networking, reading, relaxing and working. Almost everyone carries two phones, of which, one is meant for taking calls and the other (iPhone) for apping. And, why shouldn't that be? After all, the iOS ecosystem offers such a diverse range of applications for all types of purpose. There are apps for entertainment, social networking, and productivity. Do you know that the iOS ecosystem has apps that may help you multitask more efficiently? Read through the following list to get an idea about the enterprise level productivity apps for iOS.
Top 10 Productivity Apps For The iphone Users:
▀  Fantastical 2 – A multilingual calendar app for the iPhone and iPad users, the Fantastical 2 has an easy-to-use interface with essential features like events, reminders, natural language parsing and more. It is easy to set, move, share or duplicate events with just a tap and hold. It supports 5 languages apart from English, that are German, Japanese, Spanish, French and Italian. It costs $4.99.
▀  Planner Pro – It is a fine task manager app that is available for free on the App Store. You can keep your notes, tasks, and events all in one place. You can also hide your calendars if you want to keep your schedule private. Add numerous sub-tasks and manage each effectively with the help of Planner Pro.
▀  Microsoft OneNote – This is yet another free multilingual iOS app meant for those who have the habit of scribbling notes every now and then. It helps you take down your ideas and thoughts and save them for use in the future. It also has a built-in recorder to record audio notes. Whether it is sharing notebooks with your friends and colleagues to work together, or, keeping your account safe with a touch ID, this app has everything according to your individual preferences. Last but not the least, it supports diverse languages like English, Greek, Hebrew, Arabic, Czech, Catalan, Croatian, Danish, Finnish, Dutch, French, German, Hindi and more.
▀  Paper – It is an amazing app that has extremely easy-to-use features. You can draw random ideas, thoughts, and images in your free time. This helps you keep a record of everything that goes in your mind at any given time. Whenever you are standing in a queue or waiting for someone, you can scribble everything in your mind and save them for entertaining yourself in the future. The good news is, this app is also available on the App Store for free.
▀  Sunrise – Yet another calendar app, the sunrise takes the minimal duties of a calendar to another level. It pulls data from various accounts like Gmail, iCloud, Facebook, Evernote and more. Moreover, it also pulls data from other useful apps like Google Maps, TripIt and weather apps to give you a detailed analysis of how your day is going to be. The fun thing is, you can install this app on your device completely for free.
▀  Focus Keeper – This productivity app works on the Pomodoro principle. It helps you stay focused and complete the task at hand taking short breaks in between. It is a healthy method to break down your entire schedule into short intervals of 25 minutes each. Thus your productivity enhances and, you are able to complete all the tasks within deadlines. The app costs as little as $1.99.
▀  Pocket – This app is meant for the voracious readers wanting to keep themselves updated always. You can browse a variety of articles and videos on different topics and save them for reading or watching later. It can be installed both on an iPhone as well as on an iPad. And, what more? Well, this amazing app is available for Free! Free! Free!
▀  Just Press Record – Have you ever felt as slow as a snail while taking down running notes in a conference or seminar? If yes, then this app is just for you. With a single tap, you can record the entire speech and transcript it later with the help of its inbuilt transcription feature. Just the thing you need? Get it at $4.99 on the App Store.
▀  Forge – If you are a graphic designer or something similar, you should install this app on your iPhone now. It has umpteen features like brushes, markers, galleries, idea boards and more to record every single thought or idea of yours. You can also pull images from your camera, Dropbox or the Adobe Creative Cloud for ready references. This astounding design app is available at a reasonable rate of $4.99.
▀  Time page – This app helps you plan your day in the easiest way possible. It has a stylish interface with amazing features to set events, record appointments and make a note of your free and busy days without any hassle. If you want to install it on your iPhone, you have to pay $4.99 but if you want to buy the iPad version, the costs will go up to $6.99.
Now that you have some idea about the types of apps that are in vogue these days, you can easily consult a reliable iOS App Development Company and, give them an idea about your product. The expert professional developers will break down your idea into a concrete concept so that, together, you may create the next big app on the iOS platform. So, what are you waiting for? Contact the professionals and see what they can do to your simple idea of an iPhone/iPad app. If all goes well, you may earn in millions. Some success it will be! What do you think?