WordPress vs Joomla vs Drupal – A Comparison
There are 3 most popular CMS that are easily available online – WordPress, Joomla and Druapl. All of them are open sources and are based on PHP and MySQL. However, as far as their features, ease of use, capability and flexibility, they differ from each other to a great extent. Once upon a time people used to develop their website by using HTML, CSS and even Flash. With the rise of the CMS (Content Management System) things have certainly changed. Although HTML5 has been able to make a positive impact on the way websites are being developed but CMS still ranks as one of the most popular tools for web development.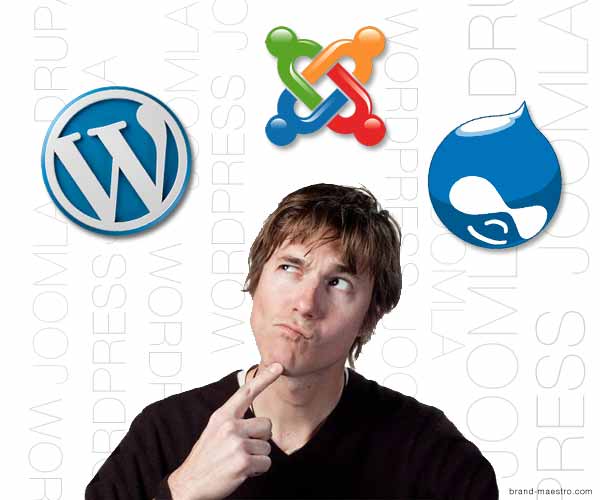 WordPress
Let's begin with WordPress. Some of the well known business websites around the world use this platform. The clients list for WordPress.com reads like a dream team. There are over 68 million websites using the platform. In addition, it also ranks as the most favored blogging software.
Here are some of the reasons why WordPress is used widely –
Plugin library: WordPress is blessed with a huge plugin library. It has proved to be the poster child for the open source developers' community.
Multiple authors: This is one of its biggest USPs. It was built with the aim to accommodate more than one author so that editing and updating content has become increasingly easy.
SEO facilitated: There are certain plugins like the All in one SEO that can help you out with On-page SEO.
Community support: The platform enjoys huge support from millions of users. As a result, the developers receive all the support they require from such a huge community.
To say that WordPress is without any imperfection would be an exaggeration. This framework is difficult to alter. Hence, those who are looking forward to make changes in the back-end might face certain problems.
Drupal

It is, probably, one of the oldest platforms that still exists as a part of CMS. Initially released in 2001, Drupal is an open source platform based on PHP-MySQL. Drupal is one of the most powerful frameworks that is known to be developer friendly. In fact, for a data intensive and feature rich website, it is perfect.
Some of the benefits of using Drupal are as follows–
Flexibility: It is an extremely flexible framework that can handle the creation of a simple blog with static font page. It can also help the developers with a powerful back-end supporting numerous pages and users each month. It is this flexibility that makes it a favorite among the developers.
Developer friendly: Drupal allows the developers to build their own solutions. This is one of those features that does not make it easy to use for the layman but it works out well with the developers.
SEO capabilities: From the very beginning Drupal was conceptualized as a platform that was SEO friendly.
Suitable for enterprises: Drupal, with its ability to deal with numerous pages and huge footfall (users) is a perfect solution for enterprises.
Although a powerful CMS, there are certain drawbacks for this framework. Anyone who is planning to use Drupal must have a minimum knowledge about PHP, HTML and other commonly used web programming languages. In order to identify the coding and deal with error messages, such fundamental knowledge is necessary. For enterprises it is important to hire a professional web development company when the business website gets too technical to handle.
Joomla

Another open source content management software, Joomla is a popular solution that boasts of more than 30million downloads. Websites like Linux and Cloud are powered by Joomla.
Let's take a look at some of its features that have made it a popular platform –
User friendly: It provides a user interface (UI) that is powerful, flexible and polished. However, it would be unfair to compare it to WordPress as there is a small learning curve attached to it.
Developer community: Similar to WordPress, Joomla too enjoys a huge support from the developers' community. Packed with wide range of extensions (plugin library) is helps the developers to provide robust solutions.
Variable extensions: There are 5 categories to the Joomla extensions – plugins, components, modules, templates and languages. Each of them are different as far as power, capability and functions are concerned. Such a variety helps the developers while customizing the websites.
Robust Content Management ability: While WordPress was later upgraded to a CMS to meet the enterprise requirements, Joomla was originally designed to meet this need. This is the reason why it is better than WordPress in dealing with large volumes of articles.
Developers love using this platform because it is easy to use and powerful. It effectively combines the benefits Drupal and WordPress. Over the past several years it has been growing in popularity and will probably continue to do so.
Why WordPress Scores?
Even if you are making a list of top 20 CMS, chances are that WordPress will score over all of them. It is no more a mere blogging site. Here are some of the reasons why it is preferred –
 Unlike both Drupal and Joomla, WordPress was not designed as being a CMS. Rather it was developed to offer solutions to an existing problem. Hence, there is a difference in focus. Moreover, WordPress had a clear target audience. This helped the developers to build successful business websites from the very beginning.
 It is the easiest CMS that is available nowadays. Even a non technical person can deal with it. However, the same rule applies neither for Joomla or Drupal. In fact, ease of use is a major issue for both these platforms.
Finally, the blog factor works. It is a great feature that has actually helped WordPress as a CMS. It has helped the platform to focus on usability and offer solutions that are more effective.
To sum it up, a content management system is meant to manage content and it can do that with any of the available software. While Drupal and Joomla are still used widely, it is WordPress that stands out with its easy usage. Undeniably, WordPress does run more number of websites as compared to its competitors.