Is iOS or Android App Suitable for your Business?
Building an app for your business is the order of the day, but to create an app for every platform could only add to the confusion. This is a common mistake that many businesses are doing recently. To develop a quality app that works perfectly on one platform is challenging enough. When you try to develop an app for iOS and also an Android app, it adds up to layers of complexity. What you need to do is build for one platform and get that right first before you expand to other devices. Now, the question is which platform you should choose for your mobile app. The most obvious choices of platforms is choosing between Apple iOS and Google Android, which combinedly holds 90% of the smartphone market. Here, we will analyze considering the factors like:
Location
In-app purchases
Visual appeal
Spending power
Cost factor
Consider your Location
If your business is targeting the market of South America, Africa or Asia, then it is advisable to build an Android app. The number of users in these areas indicate their preference towards Android over iOS. Apple generally focuses buyers who enjoy higher income and aim to the market of premium smartphone. On the other hand, Android aims for adoption by massive number of users. Therefore, the emerging markets such as South America, African and Asia are considered good for developing apps on Android.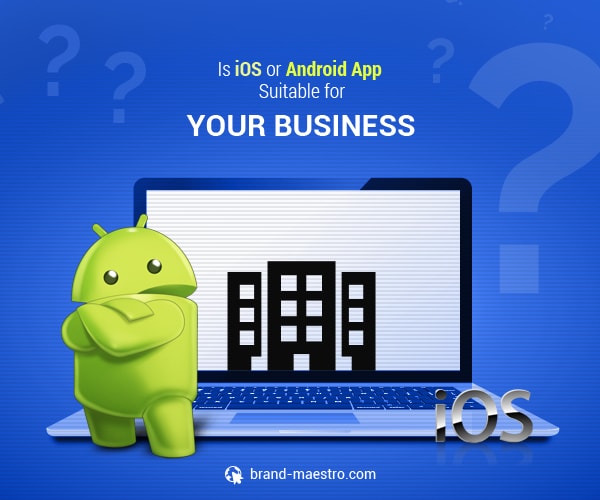 In-App Purchases
Many businesses use their mobile applications as a source of revenue. In-app purchase is a common model that helps you to make money. Here developers can effectively offer trials and demo to their customers at no extra cost. According to several research and studies, the users of iOS are 10% more likely to make in-app buys. In addition, the per user revenue of Apple is 45% more than Android. Therefore, it is advantageous to develop iOS app for in-app purchases.
Visual Appeal
If the aesthetics, art and beauty matters to your targeted customers, then choosing iOS app is a smart move. Over the years, Apple is consistently is maintaining its visual appearance, which is yet to be equaled or challenged. iOS is crisp and clean. The drop-down menus featuring frosted glass lends iOS an advantage. However, it does not mean that the Material Design of Google is bad. Over the years, t has also adopted bold colors and minimalist elements, but still lags behind Apple's choices of palette.
Power of Spending
When it comes to the major apps, you will find that most of them are being launched on iOS. The spending power of people who use Apple devices is higher than the users of Android. For example, take a look at the high-end gaming like GunBros by Glu Games that costs whopping $600. There are many games and utility apps that pinch big in the user's pocket, but they still prefer using them. Therefore, the mobile app developers want to develop an iOS app first.
Cost Advantage
There is not much of a difference in the cost when you develop an app on Android or iOS. However, for developing app for Android, you have to develop for a large number of devices. Therefore, the designing cost of the app can be bit higher for Android devices in comparison to Apple devices.
Overall, it seems Apple is more advantageous than Android for developing mobile all most because the iOS users are likely to spend more and they are more loyal than the Android users. However, what matters most is considering one platform initially to develop an app rather than focusing on multiple platforms. Always opt for expert advice from a reliable, experienced as well as affordable iOS and Android App development Company in India before you decide to build your own app. They will have the necessary knowledge to design and develop a suitable app that matches your exact business requirements.